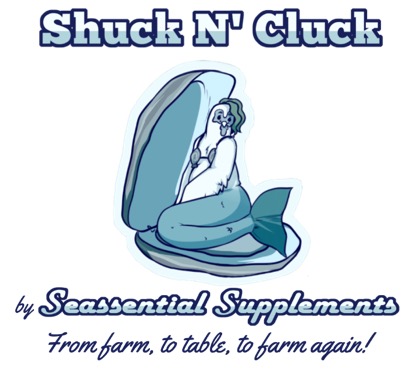 Shuck N' Cluck
The Project Blue Student Innovation Team consisting of Suzanne Aruri, Jordan Davey, and Miranda Holland is excited to debut their company: Seassential Supplements, a brand committed to repurposing restaurant waste into safe, healthy, and environmentally conscious animal supplements. Seassential Supplements' initial product is Shuck N' Cluck, a calcium supplement for chickens made from oyster, clam, mussel and scallop shells as well as sugar kelp. All the shells used in this product are sourced from local restaurants, preventing them from becoming waste. The brand aims to live by their slogan, "From farm, to table, to farm again", taking shellfish products served in restaurants and returning them back to a farm. Shuck N' Cluck sets itself apart from other competing products on the market by combining the benefits of both shellfish and kelp in one all-encompassing product at a fraction of the cost of the competitors. Not only does adding kelp to the product provide additional nutritional benefits, but it also creates a new market for the ever-growing sugar kelp industry.
Seassential Supplements got its start when three like-minded women came together with a common goal: reduce waste and help the environment. The task at the beginning of summer 2021 was simple; reimagine the oyster industry. After much brainstorming, the contribution of Randy's expertise in backyard chicken farms, and Suzanne's abundant knowledge of restaurant waste, Shuck N' Cluck was born. The team worked tirelessly throughout the summer to develop a prototype product made from oysters, clams, mussels, and sugar kelp that was generously donated by GreenWave to Project Blue. Currently, the team is working to secure an industry partner both with restaurants and kelp farmers to continue to develop this product.
As the fall semester is underway, the Seassential Supplements team is still hard at work securing an LLC with the state of Connecticut as well as relevant copywrites and/or trademarks. While the team is busy perfecting Shuck N' Cluck, there are plans for expansion in the horizon. Seassential Supplements hope to expand beyond backyard chickens to products suitable for a wider array of animals while maintaining the "from farm, to table, to farm again" mission.
Suzanne is currently a senior at Southern Connecticut State University who is a tentative Spring 2022 graduate with a B.S. in Biology and a minor in Marine Studies. She hopes to continue to develop Seassential Supplements as a graduate student at SCSU in 2022 with the Department of the Environment, Geography and Marine Sciences.
Jordan is currently a junior at Southern Connecticut State University and plans to graduate in Spring 2023 with a B.S in Environmental Systems and Sustainability. She hopes to continue with the development of Seassential Supplements with the Department of Environment, Geography and Marine Sciences and is excited to see where it will go. In her free time, she enjoys reading and hanging out with friends.
Randy is currently in her final undergraduate semester at Southern Connecticut State University for a B.S. in Environmental Systems and Sustainability Studies and a minor in Biology. Once she graduates in December 2021, she will continue her education at SCSU with a M.S. in Integrated Biological Diversity researching biodiversity impacts of regenerative ocean farming. In her free time, Randy enjoys playing video games, Dungeons and Dragons, and rollerblading.